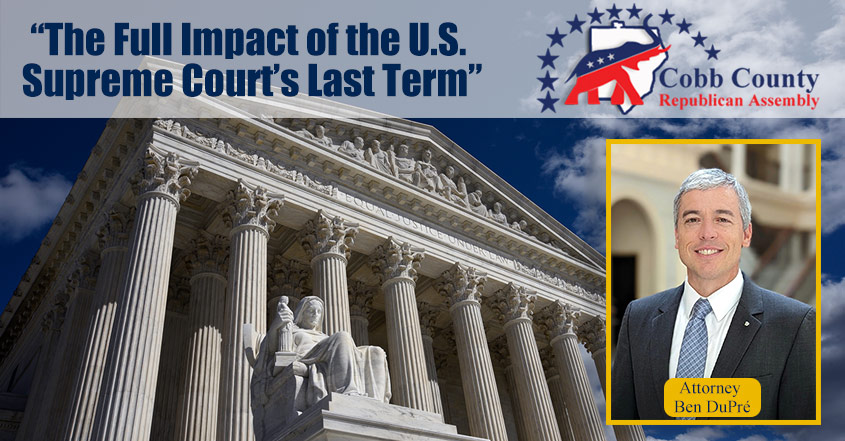 The Cobb County Republican Assembly is pleased to announce a special guest speaker for our county convention on Thursday evening, August 18th at the Cobb County GOP Headquarters: Attorney Ben DuPré, Chief of Staff to the Republican Chief Justice of the Alabama State Supreme Court, will personally provide a message on what is being called "the U.S. Supreme Court's best term in the history of America!" We will hear a summary and explanation on how the court has overturned major damaging precendent that egregiously deviated from the history and text of the U.S. Constitution to circumvent our elected representative system and imposed tyranny on Americans for decades. We will better understand how the series of court decisions were landmark for gun rights, the lives of the preborn, energy development, bureaucratic over-reach, freedom of religion, school choice, and more!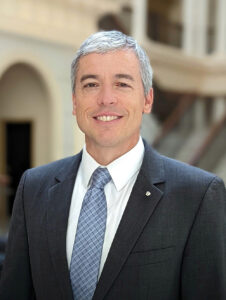 Ben DuPré is the husband of Jerusha DuPré and the father of seven children, who are educated at home through Ezekiel Academy. Ben is a constitutional law attorney licensed in Virginia and Alabama. Although born and raised in New York, Ben came south as soon as he could, attending Regent University Law School in Virginia, before moving to Montgomery in 2001 to work for Chief Justice Roy Moore at the Alabama Supreme Court on the same day the Ten Commandments monument was installed. In 2003 Ben left the Court to work with Chief Justice Moore at the Foundation for Moral Law for nine years, defending religious liberty and advocating for the pre-born in Georgia, Alabama, and across the country.
Since 2013, Ben served as Chief of Staff for both Chief Justice Moore and now Chief Justice Tom Parker. Ben serves as a deacon at Evangel Church in Montgomery, and is grateful to be saved by grace and to be a survivor of Roe v. Wade.
Registration for the event includes refreshments, dessert, and a time for Q&A with our guest speaker. Season pass holders get $15 off this and future events we host this year!
Here is a summary of the location and times for our up-coming event:
Cobb RA County Convention
Held at the Cobb GOP Headquarters
799 Roswell Street NW, Marietta, GA 30060
$30 early-bird registration (refreshments & dessert included)
$15 registration with season pass
Thursday, August 18, 2022
7:00 PM EST (guest speaker)