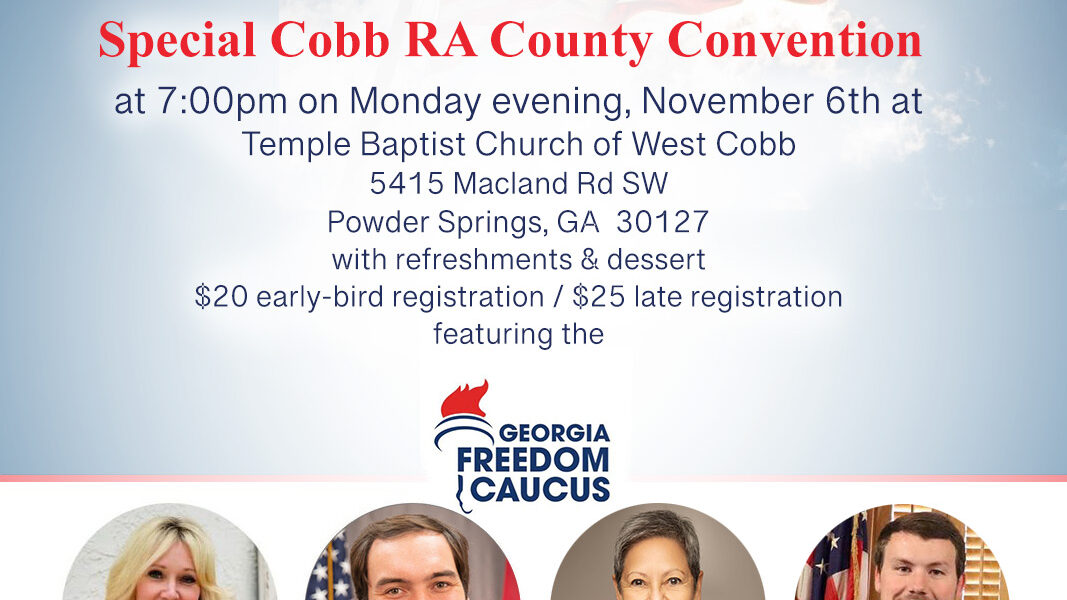 We are pleased to announce that we will be hosting a county convention of the Cobb County Republican Assembly. The gathering will involve a business meeting for members-only, followed by breaking bread together over some light refreshments, dessert, coffee, and punch. Then at 7pm we will be hosting a panel of the leadership from the Georgia Freedom Caucus to share a report on what happened (from a truly conservative constitutionalist perspective) behind the scenes at the last legislative session and to tell us what to expect in next year's 2024 legislative session. We've been planning to host them since the previous session ended. But we didn't expect the Freedom Caucus to gain so much notoriety as they have lately from the controversy regarding Fulton D.A. Fani Willis. So this will be an opportunity for you to hear from them on all of these subjects — and to ask them your questions!
All of the funds raised will go to help our chapter with upcoming outreach efforts during the Republican primary and to reimburse the church for the use of their facility.
Remember that anyone is welcome to register to attend the guest panel with the Georgia Freedom Caucus, but only members may vote in the business portion of the convention. Feel free to invite your friends from Paulding, Douglas, Bartow, and other counties in the surrounding area who would like to hear from the leaders at the Georgia Freedom Caucus.
In conclusion, here are the important details on this local RA chapter event:
Cobb County Republican Assembly Convention:
Georgia Freedom Caucus Live Panel with Q&A
Location: Temple Baptist Church of West Cobb
Address: 5415 Macland Road SW, Powder Springs, GA 30127
Cost: $20 early-bird \ $25 late registration
Refreshments, dessert & drinks included
Business: 6:00pm. Panel: 7:00pm
CLICK HERE TO REGISTER FOR THE COBB RA COUNTY CONVENTION.