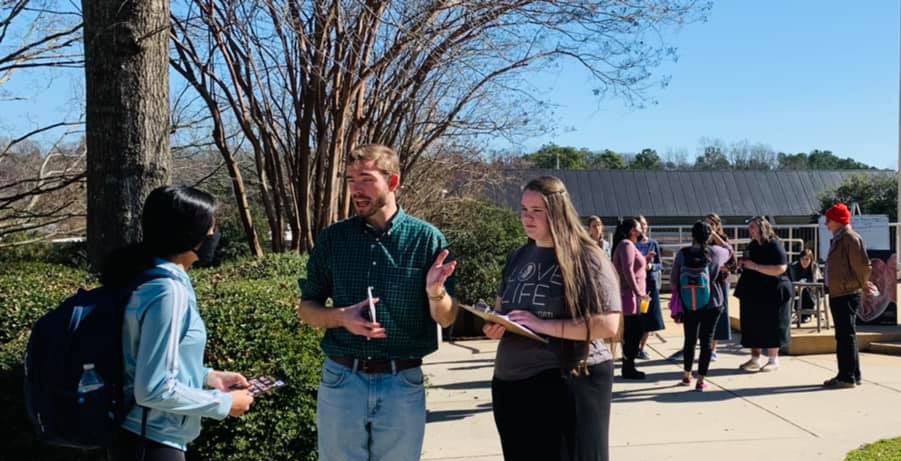 On Tuesday, Cobb GRA member Abigail Darnell led a group of 17 pro-life activists in conducting an informal survey of student opinions on the campus of Dalton State College on the subject of abortion and other controversial bio-ethical practices that kill human beings. The activists were predominantly members of Northwest Georgia Right to Life (NWGRTL), the organization that hosted the event. 
April Fry, the Director of Education for Georgia Right to Life said, "We are here to talk to the students about the sanctity of human life so that they would value all innocent human life, including those that cannot speak for themselves."
"What you all are doing here, it is making a difference. It really makes people question how they think," said Mellissa, one of the students surveyed. 
The GRA has a strong pro-life position in its statement of principles in favor of life being protected from conception, and GRA members appointed to a committee for the GA GOP passed a platform for the Georgia Republican Party last summer that included the assertion: "We believe in the right to life from conception, beginning at fertilization, to natural death."
To create interest in the subject at Dalton State College and help inform the dialogue, the pro-life group on Tuesday set up a large display containing pictures of a developing pre-born child, some thought-provoking stories of experiments on human life in the laboratory that raises bio-ethical concerns, as well as some graphic pictures of abortion victims.  Read More