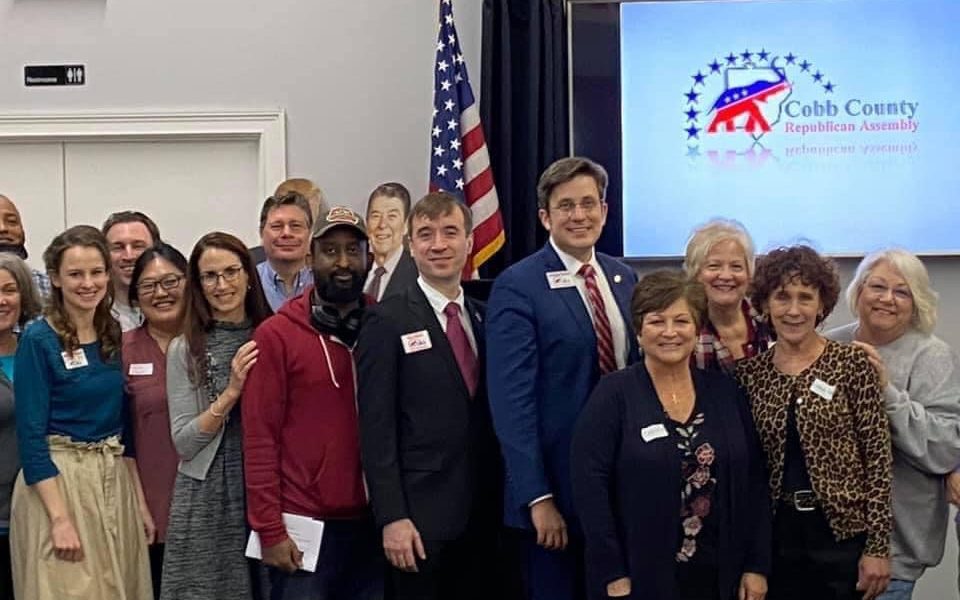 As we see the Cobb RAs continue to grow in influence, it's impressive to consider how many candidates from the three slates campaigning for Cobb GOP Executive Committee positions are a part of our membership.
15 of the 24 candidates running for executive committee positions in the Cobb GOP are approved Cobb GRA members, including Salleigh Grubbs, Pamela Alayon, Jeff Souther, Alicia Adams, Debbie Fisher (our chapter President), Eileen Alberstadt, Chase Sanger, Cameron Whiting, Fun Fong, Catherine Floam, Mario Russo, David Tulka, Cecilia Rodriguez, Audrey Neu, and Lily Deeb.
Each of these people have pledged to support and promote the principles of the Republican Assembly—and none of them have a reputation contrary to those principles. There are some other candidates, however, who's past history is possibly contrary to the principles of the Republican Assembly.
One candidate in particular, Michael Williams, who is running for the position of 1st Vice Chair of the Cobb GOP gets negative marks according to our principles for voting against holding a Republican officer accountable when he had given public support to Democrats. According to the rules of the Republican Party in Georgia, any Republican officer who gives public support to a Democrat may be removed from office or otherwise censured. This is just common sense. In 2016, the Chairman of the 11th District GOP was discovered making donations to Democrats in the public campaign disclosures.  A special meeting of the 11th District GOP reviewed the evidence, which was extensive. Not only did this Republican officer give money to Democrats, but he gave to a Democrat in Cobb who was running against a Republican in the general election.
Even so, Mr. Michael Williams argued in his video & audio-recorded testimony (which can be provided upon request) at that meeting that these donations did not constitute public support, and he thus voted against holding the Republican officer accountable.
While we have nothing personally against Mr. Williams, we do stand so strongly in our principles against the Democrats' policies and worldview that it is unconscionable to think a Republican could provide any public support to one of their campaigns today, especially while serving as a Republican officer, especially when that Democrat in Cobb could have Republican opposition in the general election.
At the candidate forum, Mr. Williams was given the opportunity to inform Republican activists about whether he had had a change of heart and acknowledged that his previous actions were a mistake. Instead, he defended his actions and suggested he would act the same way again if given the opportunity. For this reason, we do not believe Mr. Williams is fit to serve as an officer of the Cobb County Republican Party.