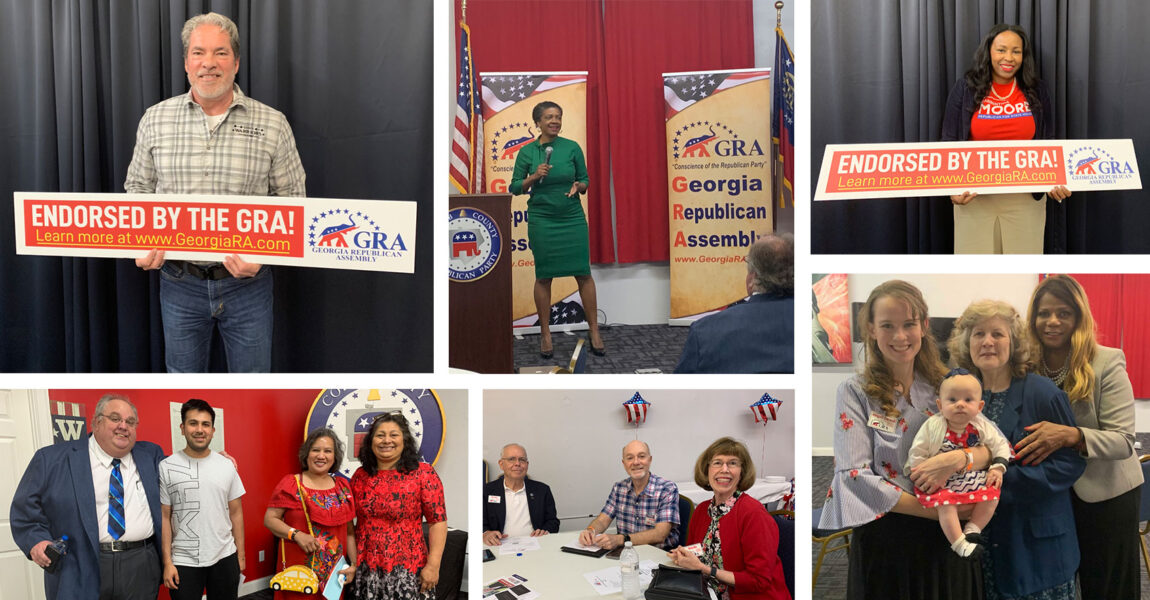 Marietta, GA — Participating members of the Cobb County Republican Assembly met today at the Cobb County GOP Headquarters to hear speeches by local candidates and to vote on whether to endorse them and others nominated by the membership. It takes a two-thirds majority of the participating membership for a candidate to be endorsed by the RAs. The local endorsement convention ran from 10:30 am until 2pm, and included lunch. Here are the candidates the Cobb RAs voted to endorse: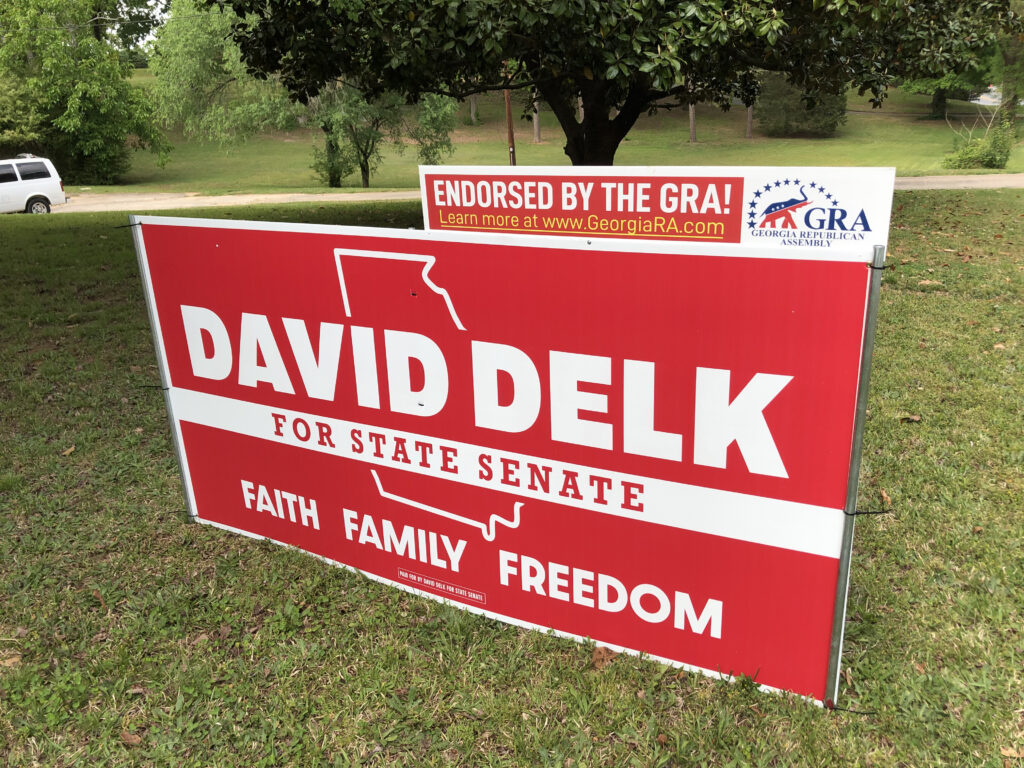 Legislative Offices
For State Senate District 37: David Delk (West Cobb & Southeast Bartow)
For State House District 45: Carminthia Moore (East Cobb)
For State House District 43: Anna Tillman (east Marietta)
For State House District 39: Olivia Angel (south Cobb County area)
For State House District 37: Tess Redding (south Marietta area)
County Commissioners
For Cobb County Commission District 3: Judy Sarden (north central Cobb)

Challenging incumbent Republican

JoAnn Birrell

with a poor vote score

For Cobb County Commission District 1: Keli Gambrill (West Cobb)

Also won endorsement four years ago when challenging an incumbent & has maintained a strong vote score since being elected
Cobb School Board
For Post 4: David Chastain (incumbent)
For Post 2: Matthew Anthony Sears
For Solicitor General: Courtney Brubaker
Incumbents Challenged in Key Legislative Races
In the race for State House District 45 in East Cobb, candidate Carminthia Moore won the endorsement. She is challenging "incumbent" Sharon Cooper (although Cooper previously technically represented a different district prior to redistricting). Cooper has earned a consistently low rating on her GRA-tracked scorecard, which is based on how legislators vote on bills during the legislative session.
From her time in the State House, State Rep. Sharon Cooper has earned a legislative vote score of 38% "F" in 2017, 38% "F" in 2018, 45% "D" in 2019, and 43% "D" in 2020, which you can see the details for at the Georgia Republican Assembly website. She also voted for the original version of H.B. 1013, a bill authored by Speaker David Ralston.
Carminthia expressed in her speech: "We have to drain the swamp in our own backyard. We can't complain about Nancy Pelosi without talking about David Ralston!" Carminthia pledged to stand up against Ralston, if elected.
Another race in the May 24th primary is State Senate District 37, which covers northwest Cobb and southeast Bartow County. In that race, David Delk won the endorsement over Scott Johnson and Ed Setzler. These three candidates sat together in a candidate forum hosted by the Cobb County Republican Party last Tuesday to contrast their ideas, principles, and background.
Of these three candidates, David Delk was the only one who did not deny that the legislature should have called for a special session to investigate the allegations of fraud before certifying the 2020 presidential election, and that it would have made a difference. At our convention, Delk again affirmed his belief that the State Constitution gives the legislature the power to deal with emergencies, and that this issue of election fraud did constitute an emergency.
On the pro-life issue, Delk is also the only one in this race to hold to Personhood—that no person from fertilization to natural death should be in danger of murder allowed by the state. That's why he's also been endorsed by the Georgia Right to Life PAC.
On the other hand, Scott Johnson has long aligned himself with the political Establishment, even voting in 2016 on the 11th GOP District Committee to not hold a Republican official accountable who publicly donated to Democrats. Moreover, as a member of the state school board for many years who claims to support school choice, Johnson has done virtually nothing to advance school choice in his position of influence.
Meanwhile, State Rep. Ed Setzler for his part has earned a vote score of "C" 52% (2017), "B" 60% (2018), "C" 52% (2019), and "D" 35% (2020).
County Commission District 3 Needs a Real Conservative
One more local endorsement worth highlighting is in the race for Cobb County Commission District 3. Judy Sarden won the endorsement against incumbent JoAnn Birrell. Unlike District 1 Commissioner Keli Gambrill, who we endorsed and saw elected against an incumbent four years ago, Birrell has not been a consistent conservative vote on the Cobb Commission Board. She voted too often with former Chairman Mike Boyce in his tax and spend policies.
Birrell has also drawn criticism for voting too often with now Democrat Commission Chairman Lisa Cupid in her liberal policies for the county. In contrast, Judy Sarden pledged to fight against Cupid's plans for high-density housing and urban-style developments.
Sarden is running on a platform of fiscal responsibility, no mandates, protection in Cobb from transit developments, and family values. Learn more on her website.