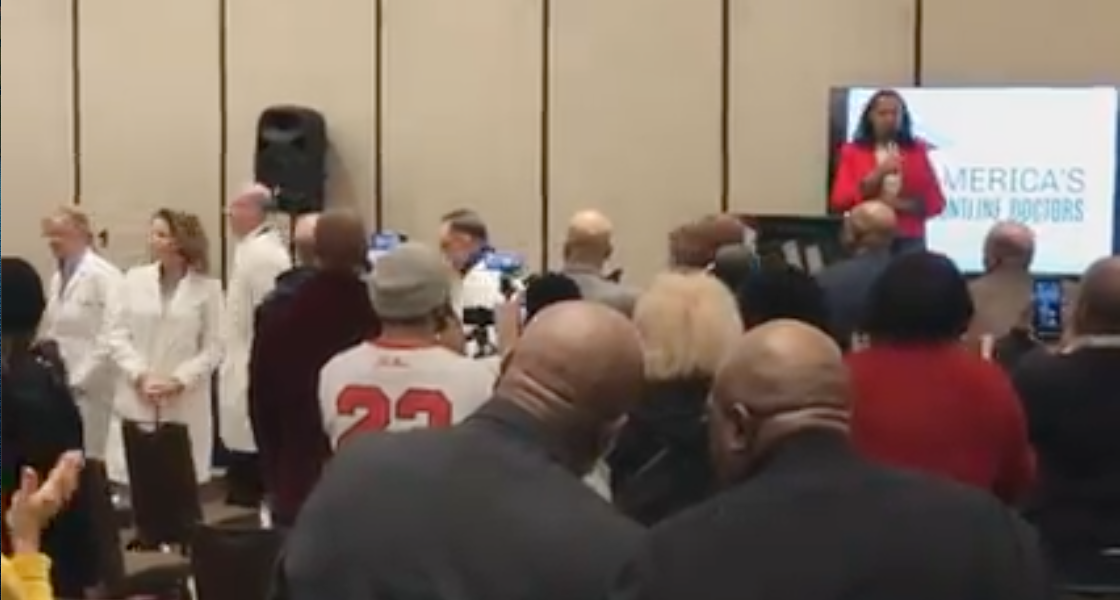 On Monday morning, members of Georgia's black community gathered in Atlanta at the Mariott Marquis to hear from America's Frontline Doctors, the group of physicians who made headlines earlier this year by holding a press conference in Washington D.C. where they advocated for the use of Hydroxychloroquine for patients infected with COVID-19. This conference was partly a response to the recent national discussion about the possibility of distributing the vaccine for COVID by race, prioritizing the black community first. Angela Stanton King, the Republican nominee in the recent congressional race for the late John Lewis' seat, introduced the Frontline Doctors at the event.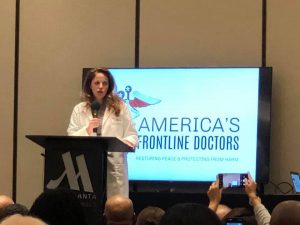 "I want you to no longer say 'vaccine,'" said Dr. Simone Gold, the group's founder, "it is an 'experimental vaccine'. That is the legally correct description." She went on to warn that, by receiving the experimental vaccine the implication is that they will track those who receive it because they are a participant in this experiment. 
"The CDC is telling the public at large that getting an experimental vaccine is a good thing and, for the black community, a matter of racial justice," Dr. Gold stated emphatically. "Racial justice has no place in scientific inquiries… There is scant scientific evidence that suggests race is a factor and some that suggests it is not a factor at all." The Doctors asserted that Africa has been virtually untouched by the virus and suggested that if minorities appear more susceptible, it is likely the result of lifestyle and living conditions not their ethnicity. The physicians, based on their research, expressed grave concerns about the safety and efficacy of the new, experimental vaccine for anyone of any race. 
"It is certainly not an advantage to be first in line to receive an experimental treatment when the risk of the virus itself is so low," said Dr. Gold who also provided statistical evidence that COVID-19 has a 99% recovery rate.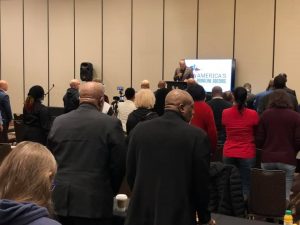 The crowd was alert and energized, frequently applauding emphatic statements and providing feedback indicating many in the audience were highly skeptical. The skepticism among African Americans toward vaccinations, is likely due to the history of eugenics in America and the tragic study conducted by the Tuskegee Institute between 1932 and 1972 entitled the "Tuskegee Study of Untreated Syphilis in the Negro Male" for which there was no evidence that the black males studied were informed of the real purpose of the study nor did they give their consent.
Among the audience were a number of pastors and community leaders like Kuam Adams, a black Evangelical Christian, whose concerns about the vaccine included the fact that it was developed using the remains of aborted human beings. Many Christians believe this is unethical and for this reason alone, oppose all vaccines whose development exploited the intentional killing of a pre-born child. Kuam is the founder of an organization based out of Gainesville called The Christocrats which works to educate and equip Christians to engage in politics with a biblical worldview. In a conversation about his political involvement, he said unashamedly, "abortion is the quintessential, number one issue."
Dr. Lee Merritt, an Orthopedic Surgeon who addressed the crowd contrasted the method used by the Moderna and Pfizer vaccines with the method typically used, saying, "We've never had a vaccine made with this technology. It's important to keep that in mind here." He began his talk by saying "The reason many of us are in this fight is that we are ethical physicians and we are seeing people hurt and dying needlessly." That sentiment was further reiterated by Dr. Shelby Cole, an OB/GYN who said "I have treated over 300 COVID patients. 'Why is an OB treating Covid patients?' you may ask. Because no one in my community was doing it." 
She suggested the data shows that the whole purpose of the experimental vaccine is just to minimize the symptoms. This comes as a stark contradiction to the belief of many Americans, and many American physicians who confidently assert that the COVID vaccine will save countless lives and be safe and effective in creating widespread immunity and thereby bring an end to the pandemic. Perhaps never before have so many people been waiting in such desperate anticipation for a vaccine which they believe is the only hope for allowing them to resume normal life again. But these physicians didn't intend to dash American's hopes, they merely redirected them from an experimental vaccine, to the drug Hydroxychloroquine, which has lately become extremely controversial, politicized and divisive in the medical community. Some online headlines yet read, "Hydroxychloroquine has no benefit, only risks."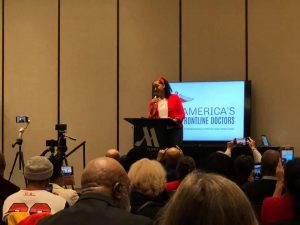 The conference was entitled simply, COVIDs Impact on the Black Community but drew a diverse group of community leaders from across the state and some from out of state as well. It was hosted by The Urban Global Health Alliance and former Republican congressional candidate, Angela Stanton King, an African American Woman who was mentored by Dr. Alveda King and courageously sought to flip Georgia's fifth congressional district red. One of the most liberal districts in the state, it was previously held by the late Representative John Lewis, a black Democrat who had ties to the Communist Party USA and was endorsed by the Democratic Socialists of America. Angela Stanton King, despite losing the race by a large margin to Nikema Williams the former vice president of Planned Parenthood Southeast Advocates, King continues to be a voice for truth in the black community. 
Kevin Jenkins, the African American CEO of Urban Global Health Alliance introduced the Frontline Doctors saying, "I know the reputation of these fine doctors. We should fight back in the black community and not allow our children to be commoditized by big tech and big pharma. This is about commoditizing the black body and taking our freedoms away from us…"
Several of the speakers presented a strong, religious element to what they considered a fight against tyranny. Jenkins continued, "That tyranny is real. I always tell my people, 'turn off the TV and find God'".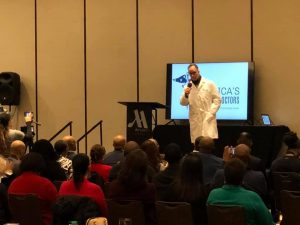 After the video of their D.C. conference went viral, gathering over 15 million views, America's Frontline Doctors were severely censored by Google and all social media platforms. They said that the study showing that Hydroxychloroquine was dangerous was widely reported on in the media, but then when that study was shown to be false and retracted, almost no one covered the retraction, leaving the community and many medical professionals hesitant to prescribe the drug. 
"I remember being surprised by doctors, who are capable of reading the medical journals themselves, were just following what Twitter and Facebook said… It was so weird to me that they weren't critically thinking," said Dr. Gold as she described her experience earlier this year in practicing emergency medicine. "Till the day I die I will never be able to process how they convinced the American people and American physicians, that this drug [Hydroxychloroquine] that has been FDA approved for 65 years, that we give to babies, children, teenagers, pregnant women, nursing women, the elderly and the immune compromised, that has been used billions of times across the entire planet, that is on WHO's list of essential medication available at all times… How they managed to con, a con of such proportions!" She continued passionately, "This drug is safer than Tylenol, it is safer than Motrin and Aspirin, and they have conned the doctors, not just the regular people, to think this is dangerous." 
Dr. Shelby Cole reported that a Hydroxychloroquine prescription costs on average $11.68, making it, in her view, affordable, safe, and effective in treating COVID-19.